Last week we received an email from the fine folks over at WordPress, who apparently host this blog you are currently reading.
I thought we'd finally gone too far with our recent entry on the subtle differences between Japanese and German scat fetishes and had our masthead revoked!
But no.
Filled with strange statistics and bizarre terms, it was a report of this Blog's status for 2010.
Now, we try not to get too involved in the logistics of this whole webby/intranet thingy–afterall, we saw The Matrix too, brother!
You see, we simply paid a Cambodian exchange student to set all this up online and started typing.
But it seems as though there are people that pay attention to these doings on the web, and no, I don't mean the federal agents that take note every time you log onto this site.
*(Sorry about all that Anarchyboy13 @ gmail. Your court case is going along nicely though I see!)
These geeks actually keep track of how many times people look in on us, how they got here, what kind of cars they drive, if their fillings are silver or porcelain, blah blah…..
I know, right? Who gives a fuck.
But they went to all the trouble of sending out this report, so let's take a look, shall we?

YOUR 2010 BLOG REVIEW
The stats helper monkeys at WordPress.com mulled over how this blog did in 2010, and here's a high level summary of its overall blog health: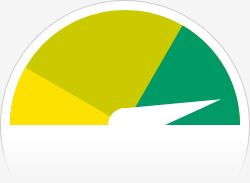 The Blog-Health-o-Meter™ reads Wow.
Heh. Did you read that motherfuckers?
The Blog-Health-o-Meter reads "Wow."
Now, I don't know exactly what the hell a Blog-Health-o-Meter actually is, though I imagine it looks comparable to a sigmoidoscope complete with a tiny colon probe….
I'll take it.
We can't go arguing with the ol' Blog-Health-o-Meter, now can we?
Ok, let's Keep Reading:
Crunchy numbers
The average container ship can carry about 4,500 containers. This blog was viewed about 19,000 times in 2010. If each view were a shipping container, your blog would have filled about 4 fully loaded ships.
In 2010, there were 34 new posts, growing the total archive of this blog to 83 posts. There were 779 pictures uploaded, taking up a total of 250mb. That's about 2 pictures per day.
The busiest day of the year was June 3rd with 185 views. The most popular post that day was To Rebellion: Travel Day to Blackpool.
Whoa.
Nineteen Thousand views for the past year?!
And not one of you bastards can buy a T-shirt from the website? Huh?
I was just as shocked as you, people.
Oh sure, we get a couple of comments written in now and then, but most of the responses are spam from Russian beastiality porn sites.
And Alf's creditcard is still screwed up from that!
But jeezus!-at 19,000 views, we could start selling some advertising space on this page, get a little scratch going!
Oh, don't whine you goddamn hippies. It's nothing we've decided on just yet.
But in the meantime, let's take a little break here and enjoy a word from one of our fine and tasteful sponsors:

And we're back!
That wasn't so bad, now was it?
The report goes on to tell us where you good readers came from.
I was excited about this, as I thought they could actually tell us the locations that people were logging on from.
You know, corporate offices, public libraries, soup kitchens…….
But turns out they just keep track of the other sites that refer people to us?
Is that how this thing works?
Where did they come from?
The top referring sites in 2010 were chthree.com, facebook.com, mail.yahoo.com, myspace.com, and twitter.com.
Some visitors came searching, mostly for true blood, iron maiden eddie, john waters, larry walters, and eddie iron maiden.
Attractions in 2010
These are the posts and pages that got the most views in 2010.
1
To Rebellion: Travel Day to Blackpool August 2009
1 comment
2
San Diego III December 2009
3 comments
3
The CH3 Eye on TV: True Blood September 2009
2 comments
4
Larry Walters June 2009
5
The Channel 3 Movie Coming to a Theatre Next Summer! July 2009
1 comment
WTF?
You mean to tell me the most popular posts were written back in 2009??
There is a post on there, the one about San Diego, that got thousands of hits.
And why?
Because it contained one picture of Eddie from Iron Maiden!!!
Oh, so that's how it is?
You people didn't come here to learn about the heroic adventures of a punk band on its feeble yet cheerful last legs, eh?
No, you are here solely because you typed Iron Maiden or True Blood into Google and *poof!* you end up on a site looking at pictures of food and drunken punk rockers?
And then you exit as fast as possible, wondering what the hell kind of virus is gonna pop up now…..oh yeah—we see you!
So I suppose we could just load this page up with a bunch of gossipy drivel and random images and the count would skyrocket, is that it?
Well, we have a little too much integrity for that.
We're old school punk rockers after all, and I'd like to think we still have our old values intact.
Good day Sir!
In the meantime, here's a picture of a topless Megan Fox with her tongue sticking out.
Ka-ching!